Supreme delivers new deep/digging clamshell dredge to Ohio USA plant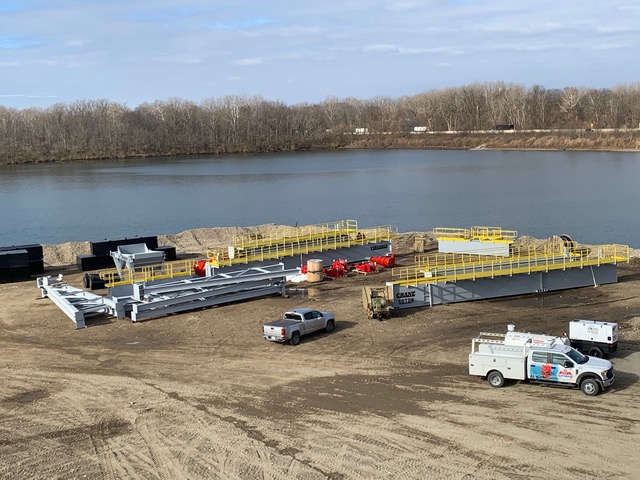 Breaking News from DredgeWire
Thursday, February 18, 2021 — Western OH: Construction is underway on a new Supreme Manufacturing, Inc. (SMI) floating/ digging clamshell dredge at a sand and gravel operation in Western OH, USA.
The new SMI machine is a gantry style dredge with a 16yd3 (12.2m3) bucket (model MD-16). Designed specifically for this operation's stony deposit, the MD-16 will utilize the latest technology in material processing and handling; incorporating onboard primary stage crushing, and dewatering, with the material making its way to land via a circuit of floating conveyors.
This location supplies aggregates to the greater Western OH market. The New MD-16 will be replacing some of the operation's aging fleet of draglines and other mobile equipment.
SMI is targeting early spring for commissioning of the new dredge.
Supreme's President Neil Hoobler commented:
"This project is a result of careful long-term planning by the customer, with the goal to be the highest production…lowest operating cost per ton sand and gravel producer in the region. It's always fulfilling to partner with customers that are looking into the future and are willing to invest in long-term savings. The MD-16 is becoming one of our most popular models – with its high production capacity — it will be exciting to see the results of this investment this season in dramatically higher production, and dramatically lower production cost"
The Supreme clam-shell dredge is a purpose-built deep-water mining machine, capable of digging to depths greater than 200' (61m) while incorporating primary stage crushing and dewatering onboard, and conveying material to shore.